Are you having a lazy weekend? Lord knows, we are! For supper last night I wanted to whip up something packed with flavor without a great deal of effort.  Last weekend was a whirl wind of cooking. While the food was awesome and I love spending time in the kitchen with my wonderful crew (aka Hubby and Kiddo), it was time to slow down a bit.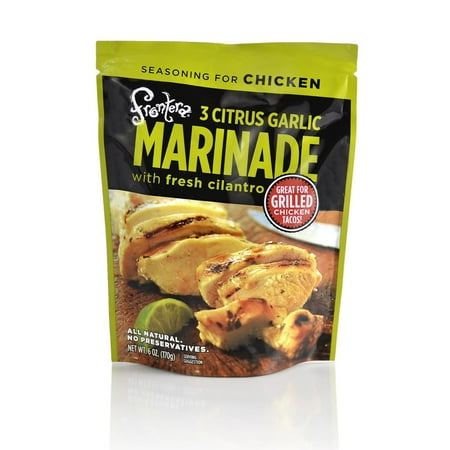 While at the market, I came across a convenient package of liquid marinade in the spice aisle. Although the package was clearly marked "for chicken"something told me it might be equally nice with Flank Steak. Follow your instincts – that's always been my motto. Most of the time, its sound advice. Rarely do my instincts fail me – especially in the kitchen. My guys loved the marinated Flank Steak, without bite one left over. I loved the easy of preparation. And the flavor – wow! Lime, orange and lemon juice – the predominate sensation being the lime.
We grilled up the steak as one big slap of meat. It was delicious. The marinated meat would also be great to grill up as flank steak kabobs with boiler onions and chunks of red or yellow peppers.
Super Easy Citrus Tequila Flank Steak
2 lbs Flank Steak
1 Package Frontera 3-Citrus Garlic Marinade
3 Tablespoons Tequila
Zest of 1 lime
In a glass casserole dish or other non-reactive container, lay out the flank steak flat.
In a small bowl, empty contents of liquid Marinade. Add tequila, whip to blend. Add zest of 1 lime.
Pour marinade over steak. Turn and coat well on both sides. Cover dish with plastic wrap and let sit in the refrigerator for at least 30 minutes or longer for deeper flavor. The steak will begin to "cook" in the citrus juice, and that's okay.
Heat grill to medium-high heat.
While grill heats, remove steak from the refrigerator and let rest on counter to take the "chill" off the meat.
Remove from marinade, discard marinade.
Grill Flank Steak for about 6 minutes per side. Remember, flank steak can become tough if over cooked, so medium-rare is best.
Remove from grill, tent and let rest for about 10 minutes.
Cut into nice size strips against the grain and serve. If desired, serve with lime wedges for garnish.
Excellent with a big helping of Super Easy Refried Beans, Mexican Rice with Chunky Salsa and warm tortillas on the side.